Rock Your Socks Virtual Goodie Bag
As a small token of our appreciation for your support and participation in the ROCK YOUR SOCKS for #elizakakes & Friends Virtual 3.21 mile run/walk, we wanted to provide you with a "Virtual Goodie Bag". In this goodie bag are several discounts and coupons from various companies. Just click on the coupon and use the discount code provided. We hope that you will find one or two that you can benefit from. But do it now, some of the offers in the ROCK YOUR SOCKS Virtual Goodie Bag are only available for a limited time.

Be seen up to 1/4 mile away while you walk or train outdoors. Glimmer Gear is
state-of-the-art sporting apparel equipped with flash and non-flash LEDs.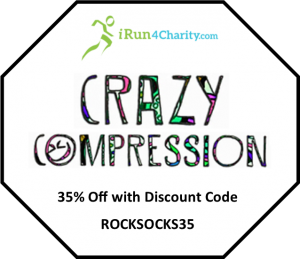 Brighten your runs with some colorful compression socks and sleeves from
Crazy Compression. We blend top level TRUE graduated compression
with designs that fit your individual style.

Throw away your energy drinks, gels, bars and supplements. ENERGYbits® are your
answer for all natural, raw energy and health. With just one calorie per tab, ENERGYbits®
give you a steady stream of mental and physical energy all day or night.

Jamie's Secret Barbeque Sauce uses only all natural foods and ingredients to maintain
high-quality and great tasting sauce. So whether you are just gathering together
with good friends or looking to make some great food with the best barbeque sauce,
give Jamie's Secret Barbeque Sauce a try.

If you are a runner, cyclist, triathlete or just a person who doesn't sit on the couch all day,
Road ID is for you. This awesome piece of gear not only looks good but it could save
your life. In the event of an accident, if you can't speak for yourself, your Road ID will.
Available in 8 different styles. It's not just a piece of gear – it's peace of mind.
Click on the RoadID image above and enter code "ARR1153" to get free shipping.
Note: This Road ID Discount Code expires 11/30/2016

Runbell is a compact yet powerful bell for urban and trail runners that is extraordinarily
easy to use, light-weight, AND that has some major style. Use it to courteously
warn pedestrians on shared pathways you are approaching.
Like a bike bell but custom designed for runners.

Innovative, performance apparel that captures the spirit of the
cross-training hybrid athlete.
https://www.hylete.com/ – 50% off your first order
with "Virtual Charity Events" as your referral source